After waiting 7+ years for the release of the Jes Goodwin Prototype Jetbike, and 20+ years for the return of Harlequin Jetbikers to the rules, GW have finally given us the Harlequin Skyweavers—but was it worth the wait?
Skyweavers
Rules for the Skyweavers started leaking earlier in the week, and at first I was not impressed by what I was reading. I decided to withhold judgement until we saw all their rules today—and try as I might, I really can't find much that excites me about these guys.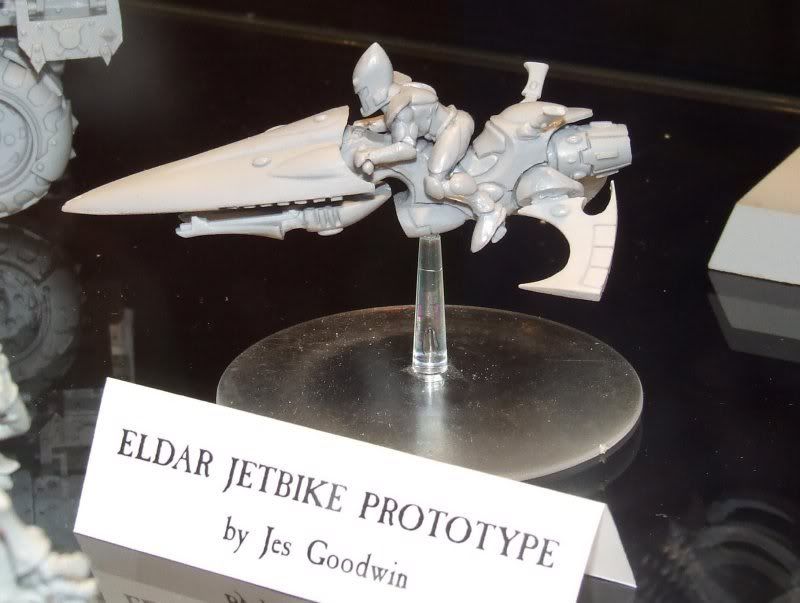 Spotted way back at Games Day 2008!
Now the models are fantastic, and I will definitely be adding some to my collection. They should look great alongside the
Russian Jetbikes
I intend to convert into Shining Spears. But will these models be relegated to social games only? At this point they really just seem to be too expensive to be considered efficient.
For a whopping 100 pts you get a mere two Jetbikes, with the option for up to four more—these guys must be awesome at 50 pts each, right? Right? Oh dear...
Dilution of Purpose
Let's get one thing clear first up: Skyweavers are not an assault unit. Yes, they are Jetbikes with WS5, three attacks, and Hit & Run, but regular Harlequin Troupes hit a lot harder for a lot less points. Skyweavers are a mobile shooting unit that are not a pushover in assault.
The problem is that we seem to be paying lots of points for beneficial assault attributes on a primary shooting unit...
Shooting
Each Skyweaver model has two riders and two wounds to represent it; however, at only T4 they are quite vulnerable to Instant Death, and more significantly, each 'pair' of Harlequins only brings a single weapon to the table.
The Shuriken Cannon is a good weapon, but is paying 50 pts for a two wound Shuriken Cannon really competitive? How often do you see 50 pts two HP Vypers with Shuriken Cannon in a tournament Eldar army?
That said, mobile Shuriken Cannons are great at killing light armour, and the Haywire Blaster alternative weapon option is great for killing heavier armour, so Skyweavers may just be the go-to option for ranged anti-armour in a primary Harlequin force.
The Star Bolas is cute—extra firepower once per game, that could be situationally awesome or "meh". But if you want your Skyweavers to do anything useful in close combat then you really need to swap them out for Zephyrglaives...
Assault
Assuming you do take Zephyrglaives—Skyweavers are wet noodles in melee without them—then you have a shooting unit that can do a fair bit of damage in the assault phase too. Each Jetbike has four WS5 S5 AP2 attacks on the charge—respectable, but less impressive when considered alongside the mass S6 potential of a Troupe wielding Harlequin's Embraces.
Alternative
Eldar Jetbikes with medium strength AP2 attacks on the charge with Hit & Run for insurance... sound familiar? Remember these guys?
A Shining Spear costs 25 pts, has one wound and delivers two S6
AP2
AP3 attacks on the charge; a Skyweaver with Zephyrglaive costs 60 pts, has two wounds and delivers four S5 AP2 attacks on the charge. For a similar cost (taking two Shining Spears per Skyweaver) you get more assault phase output from the Shining Spears—higher strength and double the Hammer of Wrath hits—and the Shining Spears are also tougher with a 3+ save and 3+ Jink compared to the 4+/4+ of the Skyweavers.
Again, I ask you how often do you see Shining Spears in a competitive Eldar army?
Of course, there is something to be said for a model that shoots like a Vyper
and
assaults like a Shining Spear, but I'm not sure that makes 50+ pts per relatively squishy model is a good investment.
Bag of Tricks
I haven't mentioned Mirage Launchers yet—effectively Jinking without reducing your shooting is a nice gimmick, but too bad it's a once-per-game trick. I don't know how necessary it really is considering that they also have Holo-Suits for a constant 5++ save, and I see this as a missed design opportunity—I really would have preferred to see a Dark Eldar-esque Ld debuff ability to remind us that the Harlequins are in many ways the interface between the Commorites and Craftworlders.
Context
Now I must admit that I'm looking at the new Harlequins from the perspective of an addition to the already-potent Eldar arsenal, and in that context they just aren't that impressive. But depending on the Faction status, Allies Matrix and Formation options of the forthcoming Harlequins Codex, it may be possible to easily add small Detachments of Space Elf Clowns to many other armies for great benefit.
For example, I'm sure a primary Imperial Knights army would love to bring along some fast Shuriken Cannons to pop transports, and Orks would enjoy blitzing heavy armour with fast Haywire Blasters. As a gap-filler, these new Harlequins—and Skyweavers in particular—could find a valuable niche in several tournament armies.
Conclusion
So I'm not all that impressed by the Skyweavers, but I can see their value to some armies. Please keep in mind that this is just a preliminary analysis based on the trickle-feed of rules we're receiving from GW; when we see the complete picture, with Faction, Allies, Relics, Psychic Powers and Formation rules, then I'll have to revisit all these units to make a more definitive call on the newest mini-army in the 41st millennium.